Comfort Inn & Suites Durango Colorado Lodging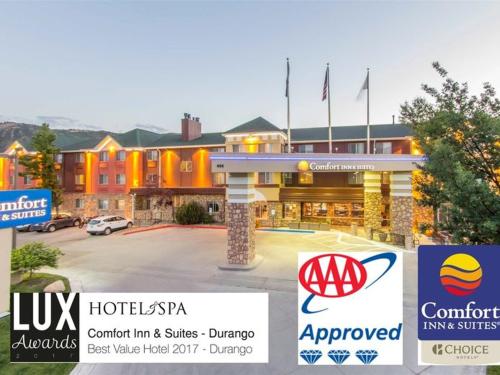 Durango Pet Friendly Hotels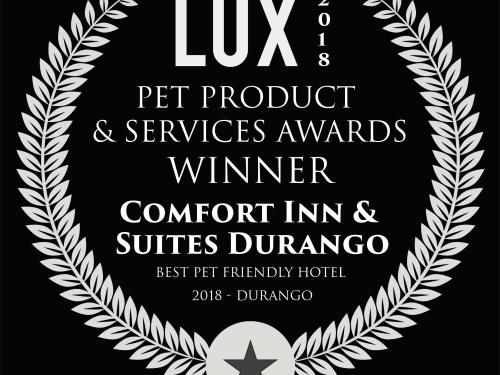 The Comfort Inn & Suites Durango is a Contemporary Award Winning AAA 3 Diamond Modern Hotel, located in the heart of picturesque Durango. It is known as one of the top places to stay for Durango CO lodging. We are one of the few Durango pet friendly hotels, so no need to leave your beloved family members at home, bring them along on during your stay with us!
In April 2017, the Hotel finished the Comfort Brand's Move to Modern complete renovation of the Hotel. The results are being met with outstanding satisfaction from all travelers. We still offer the very best value for Durango CO lodging. We just received the coveted Lux 2017 Award for Best Hotel Value in Durango.
The Hotel is centrally located only one mile from the famous and exciting Durango & Silverton Narrow Gauge Railroad. The hotel is conveniently located with easy access and within minutes of all Durango's great attractions. The stunning views from the hotel are of the beautiful San Juan Mountain Range. The Animas River Trail head, unique shopping, restaurants and the Durango Trolley Stop are all nearby the Hotel.
Property Highlights:
• 3 Star, 3 Diamond Award-Winning Hotel in a convenient central location.
• Recently Completely Renovated to the New Comfort Move to Modern Prototype and recipient of the covented Lux Award for Best Value in Durango!

• Your home for Durango CO lodging, where you will always find the perfect balance of comfort, style, & friendly hospitality at the right price.
We are proud to offer a contemporary atmosphere to relax and unwind in. No matter what the reason for your travels, you will find the perfect place to get rested, set, and go! Book a Room Today!
We are a Durango pet friendly hotel!
• Pet accommodations available for $35.00 USD pet fee per stay up to 7 nights. Pet limit Maximum of 2 Pets per room, up to 85 pounds. Refundable Pet deposit required of $150.00 USD. Pets may not be left unattended at any time to ensure guest satisfaction, and safety. We are one of the few Durango pet friendly hotels in the area!
VIRTUAL TOUR
HAPPY HOUR
Every evening during the General Manager's Happy Hour, an array of complementary amenities are offered such as fruit flavored water, fresh popped popcorn, hot chocolate, & fresh baked cookies, donuts or our newest addition Brownies
Complimentary hot Coffee and Tea available 24 Hours a day.
BREAKFAST
When you wake up, every morning you are treated to an outstanding breakfast on a rotating menu with a variety of items such as Fresh Baked Pastries, Donuts, Sausage Links, Sausage Patties, Bacon, Canadian Bacon, Biscuits & Gravy, Hashbrowns, Oatmeal, Eggs, Hot Waffles with assorted flavors, Cereal, 3 Juices, Yogurt, Fresh Fruit, and delicious hot Coffee.
FIRESIDE LOUNGE
Enjoy a Relaxing Atmosphere with soft music by one of our Two Fireplaces.
24 Hour Marketplace with Snacks, drinks and sandwiches
The Marketplace is open 24 hours a day for your convenience. We offer Lasagna. Salisbury Steak, Hot Pocket Sandwiches, yogurt, ice cream, cookies, candy bars etc.
For a more detailed list of available items click Here
Convenient Transportation Around Durango
The Durango Trolley is a great way to get around town. The trolley stops next to the hotel.
The Hotel is conveniently located near Durango's famous attractions, which include the historical town center where there are many amazing restaurants & bars, unique shopping, and of course the exciting Durango & Silverton Narrow Gauge Railroad. The Historic Durango Trolley is a very convenient way to get around the area.

See PDF link Below for the Official Durango Transportation Brochure

Download PDF
Also Visit us at the
Choice Hotels International Website
Parking
Please note that during Durango's peak season tourism is significant; therefore, Parking is Limited during these times to 1 car space per Room.
Call 970-259-7900 for details & dates.