Driving Directions to Durango
DRIVING DIRECTIONS to Hotel
The Hotel is located in the convenient Bodo Park Area south of downtown. We are close to all the attractions but outside of the hustle and noise of the old downtown area.
From 550 North: Stay on Hwy 550 through town. Hwy 550 will merge with Hwy 160 to become Camino del Rio. Take a right on CR 210. Hotel is located on right hand side half a mile from turn off.
From 550 South/160 East: Hwys 550 and 160 merge to become Camino del Rio. Go north to CR 210. Take a left on Frontage Road. Hotel is located on half mile from light.
From 160 West: As you come into town, you will come to a light. Merge onto Camino del Rio heading south (right). Stay on Camino del Rio south to CR 210. Take a right on Frontage Road. Hotel is located one half mile on your right hand side.
Flying
Transportation options once you are in Durango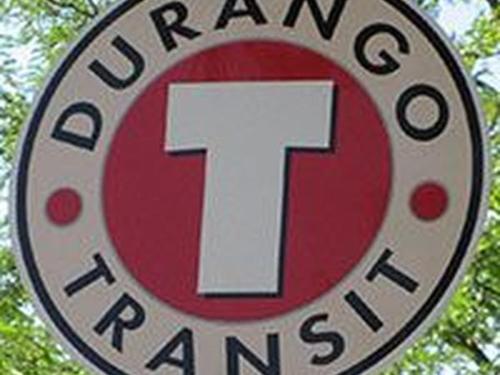 THE OFFICIAL DURANGO TRANSIT BROCHURE
Download PDF
The Durango Transit System consists of buses (called The Lift) & trolleys that run in three convenient lines. See our website for a pdf copy of the Official Durango Transit Brochure or ask Reception for a copy.
For more information call: 970-259-5438 or visit
www.durangotransit.com
The Lift stops at the Centennial Center next door near the red Durango Transit sign. (In bad weather, the bus may drop off at the hotel entry).
Any sign around town bearing the red Durango T logo is a bus stop. The fare is $1.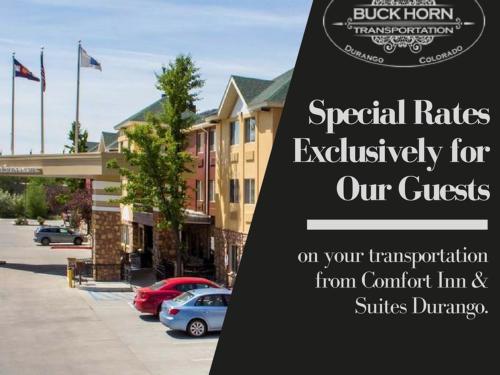 Alternative Means of Transportation
SPECIAL RATES WITH BUCKHORN
1-4 People:
$10 Flat Rate Downtown to Train Station - (Compared to $15)
$15 Flat Rate to anywhere Downtown further than Train Station
5+ People:
$20 Flat Rate (Reg. Price)
Tel: 9707690933
Coupons for Discounts on Airport Rides Coming Soon!!!
Rates w/o coupon:
1 Person: $35
2 People: $42
3 People: $52
4 People: $62
5+ People: $102
Tel: 9707690933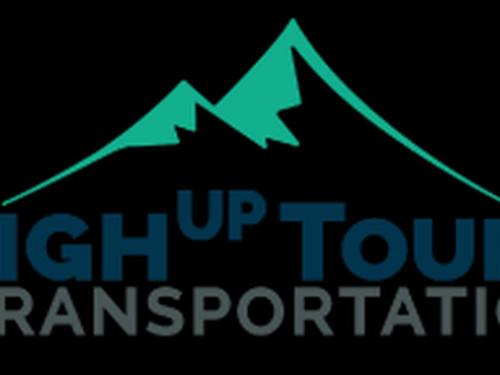 Hight up Tours & Transportation offers fun and reliable service so you can travel in comfort and arrive relaxed and refreshed.
Call to book your ride today:
(970) 238 - 0136
Taxi Services:
door to door with an approximate cost of $8 - $12 to Downtown.
Durango Cab Service:
970-259-4818 or visit
http://durangocabservice.com/
Buck Horn Transportation
970-769-0933
http://buckhornlimousine.com/
Animas Transportation
970-259-1315
http://animastransportation.com/

Uber
Another modern and convenient way to hail a taxi by using the Uber app.
Durango Rental Cars are available at the Durango Airport, as well as at the Albuquerque International Airport
By Bicycle and Walking:
The Animas River Trail is a wonderful and healthy way to experience the splendor of Durango. The trail can be accessed near Natures Oasis and extends north for many miles. This link provides an Interactive Trail map of the area

Below is a PDF link for a Map of the Animas River Trail

Download PDF