Durango Colorado Attractions & Area Information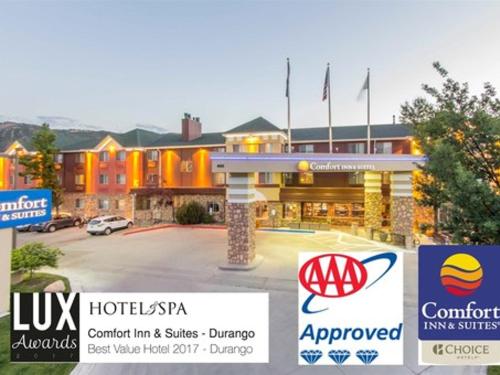 COMFORT INN & SUITES DURANGO
455 South Camino Del Rio
Durango, CO 81303
TELEPHONE: 970-259-7900
TOLL FREE: 888-259-7903
Book A Room Today
Durango has so much to offer. Not only is it in a great location, Durango is surrounded by so many amazing activities and other Durango, CO attractions. Whether you are interested in places to stay, the Durango & Silverton Railroad, Arts & Culture, National Parks & Monuments including Mesa Verde National Park, Fort Lewis College, Old West Heritage, or just some simple shopping, eating and drinking. Durango has it all! You won't run out of activities to keep you or your family busy.
Comfort Inn & Suites of Durango offers you a great place to stay and call home while you are adventuring and exploring all the Durango, CO attractions! We are centralized to all the activities and we offer packages and discounts when staying at our hotel.
One of the main Durango CO attractions includes the Mesa Verde National Park. Our Durango, CO hotel is near Mesa Verde National Park and we offer great packages to take advantage of the natural beauty that is found in this park. Mesa Verde is known for its Puebloan cliff dwellings, including a stunning and rather large Cliff Palace. There are many walking trails, climbing, hiking, and museums to explore during your time in Mesa Verde. You can adventure throughout the park on your own or you can take guided tours.
DRIVING DIRECTIONS
The Hotel is located in the convenient Bodo Park Area south of downtown. We are close to all the attractions but outside of the hustle and noise of the old downtown area.

From 550 North: Stay on Hwy 550 through town. Hwy 550 will merge with Hwy 160 to become Camino del Rio. Take a right on CR 210. Hotel is located on right hand side half a mile from turn off.
From 550 South/160 East: Hwys 550 and 160 merge to become Camino del Rio. Go north to CR 210. Take a left on Frontage Road. Hotel is located on half mile from light.
From 160 West: As you come into town, you will come to a light. Merge onto Camino del Rio heading south (right). Stay on Camino del Rio south to CR 210. Take a right on Frontage Road. Hotel is located one half mile on your right hand side.